Liste des 10 épisodes les mieux notés de la série Cougar Town parmis les 97 répertoriés sur notre site, ordre basé sur la moyenne des notes IMDB et TMDB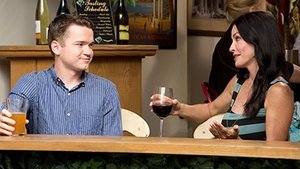 J
ules becomes crazed when Travis stays away too long from game night.
Voir la page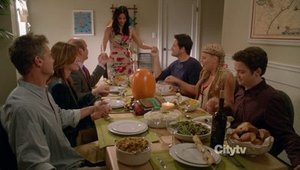 H
aving missed the real Thanksgiving, the girls insist on what Grayson and mates can only call Fakes-giving. As wedding preparations, Jules pretends to have written beautiful vows to prod Grayson to start on his, but he insists to hear hers at dinner, while Ellie schemes to make rascal son ring-bearer while the happy couple fears the boy due to her disastrous parenting, even before he breaks big Carl. Grayson coaches Andy for the mayoral campaign pizza tossing.
Voir la page
J
ules spends her bachelorette party watching "Groundhog Day" with Ellie and Laurie, Grayson gets fed up over his lack of privacy, and Travis ruins Penny Can for Bobby and Andy.
Voir la page
T
ravis seizes a rare opportunity for payback at Jules, by allowing Ted and his a capella group to stay at their home for a week. Bobby's romance with Travis's professor Claire was quickly sabotaged by a bee allergy and his clumsiness. Jules haughtily promises she can coach him to win her back with grand romance, but everything keeps going wrong, yet Claire toughens it out. The only 'remedy' for an invasion of Quebeckers during the local crab festival is instantly repulsive Tom.
Voir la page
T
he girls investigate Tom's new girlfriend; Bobby works on table manners.
Voir la page
B
obby is paranoid about a blizzard hitting town. Jules gets into an auto accident with a man, who is attracted to her.
Voir la page
D
ouble-length finale. (PART 1) Grayson's child-wish can't be denied, yet Jules still tries. Travis follows on a mindless idea from Laurie by traveling to Hawaii. Jules mobilizes the gang the check up in the guise of a group holiday. Since their Penny Can ventures made a fortune, Bobby and Andy are almost inseparable, to Ellie's envy. (PART 2) While the others enjoy Hawaii, Jules loses hope she can persuade Travis to resume his studies and realizes she must face Grayson's longing.
Voir la page
W
hen buyers show interest in Grayson's house, the crew is quick to judge their potential new neighbors. They also become nostalgic about when redneck Bobby and Jules first moved into the neighborhood. Meanwhile, Wade returns home from Afghanistan early, but Laurie's initial excitement quickly turns to fear when he becomes too clingy.
Voir la page
G
rayson tries to prevent Jules from running her birthday; everyone experiences major life changes.
Voir la page
Jules Cobb, âgée de 40 ans, est un agent immobilier fraîchement divorcée vivant avec son fils Travis, âgé de 17 ans, dans l'aire urbaine de Tampa Bay, dans la ville de Gulfhaven en Floride surnommée « Cougar Town » parce que son équipe de football américain du lycée se nomme les « Cougars », non loin de son ex-mari Bobby, un peu tête en l'air et qui éprouve toujours des sentiments pour elle. Essayant de faire face aux problèmes du quotidien, elle décide de se remettre à la « chasse aux hommes » avec l'aide de ses meilleures amies : Ellie, mère de famille mariée dans la quarantaine également, et Laurie, sa jeune employée écervelée de 28 ans…
Articles similaires