Liste des 10 épisodes les mieux notés de la série Joey parmis les 46 répertoriés sur notre site, ordre basé sur la moyenne des notes IMDB et TMDB
J
oey and Michael find Jimmy squatting in Joey's burned-out villa, so they suggest he moves in with lover Gina; the couple fights so much they have lots of make-up sex fun, yet Jimmy still spends more time letting off steam against the Tribbiani boys, ordering them to face the table in Joey's own home, then at Gina's place. Bobbie has arranged for Joey to go out as 'beard' (fake date) with popular actress Edie but Gina deliberately 'forgets' to tell Joey -not his house-mates- she's a lesbian; he still comes to care for Edie, and encourages her to come out of the closet at the awards evening he's accompanying her to...
Voir la page
Voir en ligne
J
oey didn't get the lines for a Deep Powder promotion shot, and finds on air it's actually a viewer vote to decide whether his, Gunnar's or Bodie's character will die. Yet he worries more about handling Sara who asked him to live together. Once the couple realize neither is really ready for that, she makes a drastic choice... While Alex is returning to the dating scene, Michael accepts Joey's offer to ask Bobbie to help him and his mate Seth, who got them both removed from the ticket-line for the latest Star Wars movie, to get into a professional screening, but Michael sits not only next to a crew member, instead of Seth the second ticket is for Bobbie, who afterward has to face lioness-mother Gina's wrath...
Voir la page
Voir en ligne
T
he whole gang is excited when Bobbie gets Joey invited to the Tonight show, and although his anecdotes are all too embarrassing and/or sexually explicit Michael and Gina eagerly drive him, but the highway is bogged down by a car accident. Just before it Gina and Joey's insistence made Michael give the finger, a life-first for the only polite Tribbiani, to a pair of beefy men who now stand just next to them, with a numberplate 'judoman'... Joey desperately fails to find alternative transport after Bobbie warns his spot and any chance of another invitation are lost if he's late, Gina flirts with every driver in the queue who has something like air conditioning in his car, or is just as hunky as Kyle. Alex comes trough with a motorcycle, so Joey gets his minutes of fame on national TV, but not quite how show host Jay Leno expected...
Voir la page
Voir en ligne
W
hen Alex delights in Gina's home-made lasagna, she's taught to cook it for her husband, but later claims to have improved it with a secret ingredient- a duel is declared, to be jury-tasted by eager Joey and reluctant Michael. Joey ignores a warning from producer-director Lauren Beck not to get romantically involved with his show daughter-performer Katie, who strikes jealously when she erroneously thinks Joey hits on Lauren. Joey can't talk her over, asks his agent Bobbie, but she makes it even worse... Meanwhile the home-front forced Michael to pick from the equally good lasagnas, alas not ma's...
Voir la page
Voir en ligne
J
oey is frustrated his agent Bobbi can only get him parts that feel like a step back. So when Alex hosts an alumni meet from Northwestern University, attended by producer Steve Carpenter, he gets her to present him; Steve obviously believes in the old boys network 'mafia', thinks Joey is a fellow alumnus and as he pretends so arranges a serious movie part audition. Joey commits for the alumni activities, but is shocked when it's not the teenager part he felt ideal for, only the overprotective father. Michael and Gina convince him he's fit for a father part, but at the actual audition Joey feels his 'daughter' is too hot to think of as a, let alone his, child...
Voir la page
Voir en ligne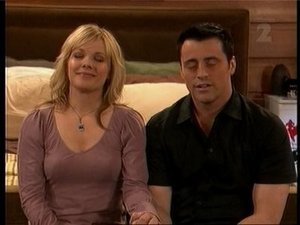 J
ust now Alex has turned sexual on Joey, Gina convinces him they need more 'meaningful' moments. Joey finds an engagement ring in Jimmy's pocket, and Gina overhears him, so the proposal is rushed most unromantically; when she sells it to buy a car, he's vexed; Joey suggest counseling from father O'Neill; his sharing secrets test brings out a big one: Jimmy married older Tracy for her money, and never got divorced... When Michael is excited about his hot-sounding Internet mate SexySteve87, Joey is convinced that must be a man and talks him out of a Las Vegas date.
Voir la page
Voir en ligne
J
oey and Alex are ecstatic when Jimmy announces he's about to marry Gina and asks Joey as best man, but Jimmy warns him dames Alex's age want the ring very fast- only when she tells Joey she's trough with marriage forever - Michael assumes the best man position is naturally his as Gina's only son, and Joey can't bring himself to tell him. On the day, both Jimmy and Gina make a run for it - Joey was also looking forward to throwing the first baseball at a Dodgers game, but Jimmy made him realize how stressing the risk of looking foolish can be.
Voir la page
Voir en ligne
J
oey finds it hard to get in the Christmas spirit due to the Californian heat, while Gina even stopped buying a three when Michael lost his naive Christmas faith- at age three. Joey is in a new series, Powder Deep, where the rest of the cast is so green that he is the 'veteran' playing a patriarch in the snowy North, but he manages to upset the utterly obsessive producer Lauren Beck, so after spilling the beans on the next episode at a press conference he fears the missing last page of the new script probably means his character captain Powder's death in a bomb explosion...
Voir la page
Voir en ligne
J
oey can't persuade Laura to give him more then two tickets for his TV series' Deep Powder's fancy premiere, while he already promised to take the whole home gang along, so he fixes the ladies up with dates from the production team: Alex gets an older lesbian, Gina his otherwise unknown manager Martin, who didn't even want to come, but turns out to be Laura's ex and nightmare. Only Michael gets Joey's own guest ticket, but loses interest in a sexy girl, who clearly made a pass at him, when he spots actor Brent Spiner, who played his SciFi idol, Data (the android from Star Trek the Next Generation), for whom that part is alas the one subject he's sick of discussing, but agent Bobbie forces him; he actually finds Michael insightful, so Michael must chose. Joey has a surprisingly exciting way to calm obsessive Laura down...
Voir la page
Voir en ligne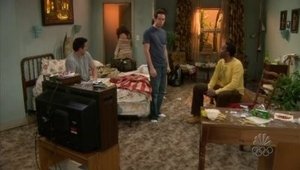 F
inding Michael sad after a break-up with his 'first' who got too serious, Joey and Jack drag him along to 'enjoy bachelorhood to the full' in Mexico, holding a bordello orgy in Tijuana, where he hits on a girl who understands no English but all get so drunk they wake up with a wedding video, only it's not Michael's as first assumed but- his mentors'! Gina was already teaching Alex to 'have more fun', rather her mean way, so when Joeys begs for her legal help, she makes the accidental newly-weds believe -although gay marriage doesn't exist in Mexico- they need to go trough a ridiculous procedure on video 'for the consulate', so she, Gino and Michael can enjoy the bragging nitwits making desperate fools of themselves....
Voir la page
Voir en ligne
After his friends all go their separate ways, Joey Tribianni leaves New York for Hollywood to pursue his acting career full time. His sister Gina buys him a nice apartment, and he finds a new roommate in his 20-year old nephew Michael (Gina had him when she was 16), who is literally a rocket scientist. Michael's book smarts and Joey's people smarts allow them to help each other out whenever they can, and make them nice companions.
Articles similaires