Liste des 10 épisodes les mieux notés de la série The Wire parmis les 60 répertoriés sur notre site, ordre basé sur la moyenne des notes IMDB et TMDB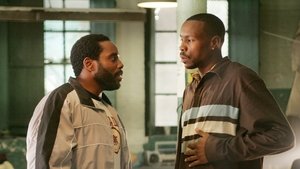 T
he wire begins to yield information about the Barksdale organization. Stringer and Avon reminisce on how far they have come. McNulty finds the way to a key piece of the puzzle in an unlikely place. Awaiting his fate, Colvin works behind the scenes to shape the outcome of Amsterdam, while protecting his men from possible repercussions. Bubbles considers a new partner.
Voir la page
Voir en ligne
O
n the trail of missing bodies, Freamon turns to a higher authority after being rebuked by Landsman. Carcetti finds his promises of prosperity undermined by the school debt, forcing him to contemplate groveling before the Governor in Annapolis.
Voir la page
Voir en ligne
T
he detail uses satellite technology to its advantage. Bodie is unhappy that Proposition Joe's people are selling on his turf. Valchek visits the FBI in an attempt to get real results on the docks. Ziggy's deal with Double-G goes bad in a big way. Greggs considers motherhood and Prez makes a major blunder.
Voir la page
Voir en ligne
O
rlando is still itching to get in on the action and tries to make a buy only to find that the seller is actually an undercover State policeman. Once arrested, he's keen to make a deal and finger Avon Barksdale. At the same time, the Deputy Chief is fed up with the length and growing complexity of the investigation and orders Lt. Daniels to set up a drug buy using Orlando as the go between. Daniels isn't too keen feeling they will get a conviction with he information from the wire. Greggs accompanies Orlando on the buy but walks into a trap. Greggs' confidential informant, Bubbles, has gone three days without drugs and decides to try and go straight. Omar meanwhile decides to get out of town for a while and goes to New York. McNulty reaches out to Wallace when he hears the young man was shaken by Brandon's killing.
Voir la page
Voir en ligne
C
arcetti maps out a damage-control scenario with the police brass in the wake of a startling revelation from Pearlman and Daniels. Their choice: clean up the mess...or hide the dirt.
Voir la page
Voir en ligne
A
fter flexing his muscles around the city, Carcetti faces his first dilemma when a group of ministers protests Herc's mistreatment of one of their own. Randy gets the cold shoulder at school. Omar and Reynaldo pay a menacing visit to Proposition Joe, with their own proposition. Freamon has a revelation at a crime scene that promises to blow the lid off an unsolved mystery.
Voir la page
Voir en ligne
I
n the Season Four finale, the bodies from the vacants pile up while Burrell offers his support to Daniels and admonishes Rawls for crossing him. A distraught Bubbles finds himself at his wit's end after his revenge plan backfires.
Voir la page
Voir en ligne
T
he detail has a setback. Russell and Bunk revisit Philly, looking for evidence. Brother Mouzone talks with Stringer Bell regarding their agreement, leaving Bell to contend with Avon Barksdale. McNulty and Greggs return to the Westside, where they discover new connections. Herc and Carver feel disrespected by fellow officers. Nick tries to come to terms with the Greeks, and himself.
Voir la page
Voir en ligne
T
he detail makes a desperate move. Nick's deceit is in the open, as Sobotka is overwhelmed by bad news. The Greeks confidently ease out of a brief encounter with the detail and Omar's suspicions are validated. The detail hopes to find Vonda's boss. Nick hopes to repair relations with the Greeks and Sobotka is forced to make a difficult choice.
Voir la page
Voir en ligne
W
ith Steintorf ordering Rawls to initiate 'creative' remedies for the rising crime rate, Freamon's vigilance pays off with a promising lead, sending Sydnor and the department into overdrive.
Voir la page
Voir en ligne
Quand la police s'efforce de démanteler un réseau tentaculaire de trafic de drogue et du crime à Baltimore.
Articles similaires