Liste des 10 épisodes les mieux notés de la série The Big Bang Theory parmis les 206 répertoriés sur notre site, ordre basé sur la moyenne des notes IMDB et TMDB
L
eonard's mad at Sheldon for having to attend yet another "useless" quarterly roommate agreement meeting, on which Penny falls on Sheldon's side in wanting to keep the peace. Sheldon's mad at Amy for siding with Leonard against him and Penny as she admits she never liked to attend girlfriend agreement meetings. Howard's mad at Raj for continually flaunting the fact that he is dating both Emily and Claire all in form of complaining how difficult it all is. All these disagreements have the potential to come to a head when the gang gets together to watch the latest episode of Game of Thrones (2011) as Stuart is the brunt of yet another prank by Howard, and as further revelations emerge about why Amy sided with Leonard against Sheldon and Penny, and about where Bernadette falls into the complicated relationship between Howard and Raj.
Voir la page
Voir en ligne
S
heldon is excited to learn through his friend Wil Wheaton that Adam Nimoy, the son of Leonard Nimoy, Sheldon's hero, is making a documentary on the character of Mr. Spock, and wants to interview him, as a fan, for the documentary. Sheldon is to talk about how the character of Mr. Spock has influenced his life. Elsewhere, Bernadette wants to renovate the house to make it feel more like her and Howard's home, and not the Wolowitz home. Howard would rather the house remain as it is, the way he remembers it in all his memories, good and bad, especially of his recently deceased mother. Bernadette and Howard each bring in reinforcements to support their side. With both the documentary and the redecorating, certain other issues come to light which change the focus of the tasks at hand.
Voir la page
Voir en ligne
P
enny has received tickets to a wine tasting, and has invited all her friends to go with her. Everyone accepts except Sheldon, who has no interest, and Bernadette, who can't drink since she's pregnant. So Sheldon suggests that when everyone else is at the wine tasting, he and Bernadette spend time together doing things for that he normally likes to do and that Bernadette is reduced to now only being able to do since she's pregnant. Bernadette reluctantly accepts Sheldon's invitation. She ends up being surprised by their time together. At the wine tasting, the gang runs into Zack, Penny's old boyfriend who she hasn't seen since before she and Leonard got married. Zack's simplistic way of looking at the world makes for an uncomfortable evening for Leonard, Howard and Raj, the first two who reevaluate working on their prototype for the guidance system, and Raj who is trying to play it overly casual with his date for the evening, Claire, upon her first meeting with his friends.
Voir la page
Voir en ligne
T
out le monde a prévu de passer les fêtes de Thanksgiving dans la maison de la mère de Howard. Mais cette dernière étant clouée au lit, le petit groupe se propose de faire la cuisine. Sheldon est loin d'être ravi par le choix du lieu pour les vacances. Des tensions apparaissent entre Penny et Léonard, à cause d'une mauvaise blague. Howard veut saisir l'occasion pour resserrer les liens avec son beau-père...
Voir la page
Voir en ligne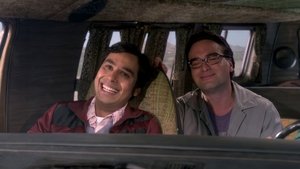 B
ecause Leonard and Penny eloped, neither got a bachelor or bachelorette party before their marriage. As such, Howard and Raj, with Penny's help, kidnap a willing Leonard and a less than willing Sheldon to take them away to a mystery destination for a bachelor party. The plan in general sits well with Leonard, and a little less so with Sheldon, until he learns of some science related aspects to the plan. But all four will have to use a little more science on this trip than they anticipated. With the boys out of town, the girls have a bachelorette party of their own. As Penny doesn't want to go to a strip club, they decide instead to have a girls' night in to talk about their current lives. Penny's marriage to Leonard and Amy's break-up with Sheldon lead to two telephone calls, one which contains a little more information than Penny would have liked, and a physical transformation for a new look.
Voir la page
Voir en ligne
L
eonard visits a psychiatrist so Penny can make a sales call on her and they learn some things about their interactions and marital issues. Stuart moves out of the Wolowitz House. Sheldon works with Raj looking for extra-solar planets.
Voir la page
Voir en ligne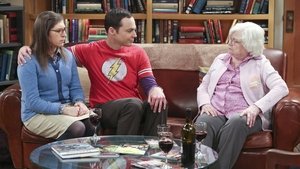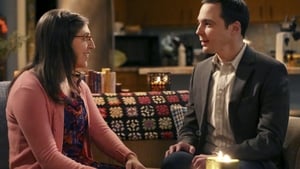 P
rofessor Proton visits Sheldon in a dream and gives him advice about whether to go see the new Star wars film or spend the time with his newly reunited girlfriend Amy on her birthday. Meanwhile, Leonard, Howard and Raj try to decide who will get their extra ticket to the movie premiere.
Voir la page
Voir en ligne
W
hen she finds out that Beverly was secretly hurt by not being invited to their wedding, Penny makes the unilateral decision to hold another non-legal wedding ceremony to which she and Leonard will invite their closest friends and family, largely to appease Beverly. After Penny is able to convince Leonard to go along with the idea, Leonard makes the unilateral decision to his invite his father, anthropologist Dr. Alfred Hofstadter, a move that does not sit well with Beverly, as she and her ex-husband have been on bad terms with each other since their divorce. Sheldon makes the unilateral decision to his invite his mother to "their" wedding, which could prove to be awkward since Beverly and Mary, in their previous meeting, have shown that they not only don't see eye-to-eye on anything, but that they truly don't like each other. Putting Mary, Beverly and Alfred in one room together is an explosive mixture, but not totally in the way Leonard, Penny or Sheldon would have figured. Meanwhile, Howard has got the guidance system to work. Almost immediately upon that revelation, Howard receives a message from the US Air Force that they would like to meet with him. Beyond the general discussion Howard, Leonard and Sheldon have had about the use of the guidance system and whether they would want it in the hands of an organization that could use it for violent or military purposes, Howard becomes paranoid that Big Brother has been watching his every move, something that Bernadette and Raj try to convince him is not the case, and that the timing of the request was all coincidental. Howard's paranoia takes on interesting proportions, especially as it relates to Penny and Leonard's pre-wedding dinner.
Voir la page
Voir en ligne
L
eonard and Howard have started working on the prototype, and accept Penny and Bernadette's offer to help. The boys leave the girls in the lab while they need to go to the hardware store to buy more solder. En route, the boys get lured into a free preview movie screening, about which they plan to lie to the girls why they are delayed. They however text Raj about what they are doing, Raj who has since ended up at the lab himself. Raj has to decide to who his allegiance lies, the boys or the girls. Meanwhile, Amy is trying to convince Sheldon to replace his broken down laptop, which seem to be on its last legs. Sheldon is reluctant to replace it, but he is even more reluctant to recycle it when it does eventually break down, even though the electronics store will give him store credit for it. Sheldon decides to come clean to Amy about why he doesn't want to recycle it.
Voir la page
Voir en ligne
Leonard et Sheldon pourraient vous dire tout ce que vous voudriez savoir à propos de la physique quantique. Mais ils seraient bien incapables de vous expliquer quoi que ce soit sur la vie "réelle", le quotidien ou les relations humaines... Mais tout va changer avec l'arrivée de la superbe Penny, leur voisine. Ce petit bout de femme, actrice à ses heures et serveuse pour le beurre, va devenir leur professeur de vie !
Articles similaires