Liste des 10 épisodes les mieux notés de la série Being Erica parmis les 41 répertoriés sur notre site, ordre basé sur la moyenne des notes IMDB et TMDB
T
hings around Erica are not going well. Sam, who is still staying with Erica and Ethan, has just been served divorce papers by Josh, who wants to take her for everything. And Erica loses two important people in her life. First, Brent no longer wants to associate with her as he sees them as being on opposite sides of a Cold War. And second, Kai no longer wants to see her after her admission to him that she has feelings for him. Not wanting to fall into what he sees as the bad life he lived in 2019, Kai quits his job at Goblins without telling Erica in hopes that she can go on with her happy life with Ethan. Erica, in her regular therapy session, wants specifically to deal with the issue of Kai, which Dr. Tom refuses, he stating that her therapy is about her and not Kai. After a fight, Erica walks out of her session. Their fight reminded Dr. Tom of his own strained relationship with his street-wise daughter, Sarah, whose whereabouts he now does not know. To help him understand what is happening between himself and Erica, Dr. Tom is sent back by Dr. Naadiah to his last meeting with Sarah. This trip back may fundamentally change Dr. Tom's relationship with Erica, and by association Kai.
Voir la page
Voir en ligne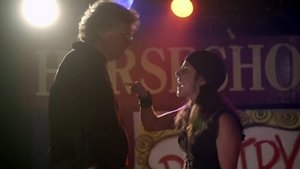 E
rica feels likes it's going to be a good day. She is basking in the aftermath of her first kiss with Ethan, with who she sees a potentially happy future despite their long friendship and him still being married to Claire. And she's starting her new job - albeit in an extremely junior position - as an editorial assistant at River Rock Publishing. Her day quickly goes downhill when she meets her new boss, Julianne Giacomelli, a young, controlling, confrontational, passive-aggressive bully of a person, who seems to relish in embarrassing Erica. To Erica, Julianne is a younger, female version of her first year university creative writing professor, Antonin Lozar. Because of the emotional scars from that class, Erica has never done any creative writing since. Dr. Tom sends her back to Professor Lozar's class to defend what she considers a true indication of who she is as a person, her poem entitled "Snowflakes". Will her new experience with Professor Lozar prepare her to handle Julianne?
Voir la page
Voir en ligne
E
rica's life seems to be bound by rules and conventions, rather than acting on what may be deep in her heart. Ethan has just moved in, yet he feels threatened by Erica's relationship with Kai. Erica, with Ethan in tow, needs to do some research for her sex book at a bona fide sex club, where many social rules are broken. To allow her to feel what life is like without these conventions, Dr. Tom gives her the entire day again, this time how she wants it to play out. The only thing that will exist on her day after the fact is her memory of it. So she lets loose, and spends much of the day with the only person who can really appreciate it, Kai. Erica learns that even though nothing during her day is real, it feels like it's real - the good and the bad - and that she'll know what others truly believe and think after the day is over.
Voir la page
Voir en ligne
I
n the lead up to Sam and Josh's wedding, Erica and Ryan, Josh's best man, have been dating, publicly announcing the fact, making Erica uncomfortable. The fact that Ethan and Claire may have reconciled isn't helping either. But topping Erica's uncomfortable list in the relationship department is Sam and Josh themselves, their relationship which she just does not understand. She can't help but feel that they are making a big mistake in getting married. She feels even worse when Sam herself expresses the same doubts just before the ceremony. With Dr. Tom, Erica dictates to him where she wants to go: August 13, 2003, the day that Sam and Josh broke up for the one and only time during their relationship. Then, Erica convinced Josh to reconcile. This time, she will do no such thing. Dr. Tom obliges Erica's wish. Back at that break up, Erica directly learns from Josh not only the nature of Sam and Josh's relationship, but what is truly in his heart and why he has always acted with animosity toward her. Erica has to decide what to do with this information. If she doesn't tell Sam, Sam could be making the biggest mistake in her life marrying Josh. If she does tell Sam, it could ruin her relationship with her sister.
Voir la page
Voir en ligne
E
rica is facing a lot of stress in her life. Sam is no longer talking to her and never wants to see her again. Marcus Stahl wants to renege on the book deal of writing his memoirs since he can't visit that dark place in his past. Because she feels her sessions with Dr. Tom have so far made her life worse than better, she wants to quit. However, Dr. Tom offers her a gift because of her stress: he will send her back to any day she wants where she was the cause of the day being perfect. She chooses a time as a teenager, taking a day trip to Toronto Island with Leo and Sam, to get away from their arguing parents who looked to be on the verge of divorce. One importance of this day is that, as Erica states, it is the last big 'hurrah' between the three of them before Leo died. She vows not to change a thing about that day. However, her thirty-two year old sensibilities may factor into what she now decides to do. And any small change to the day may alter how perfect it was in her memory.
Voir la page
Voir en ligne
E
rica realizes that she has feelings for Adam, but won't do anything about it since she believes they are like oil and water. As such, Dr. Tom tells her to spend her day doing what her impulses or "id" tell her to do, without her conscious or "superego" censoring those decisions. This day happens to be the day of the Pride Parade when her old friend Cassidy is coming back to town. Spending the day with homosexuals, Cassidy in particular, may help Erica in this task as she has seen how Cassidy, as a homosexual woman, has taken those risks and acted on her impulses. But what will Erica do when confronted with the issue of Adam. Meanwhile, three other couples take their friendships/relationships to a new plateau, namely Julianne and Ivan, Barb and Gary, and Sam and Lenin. With the latter, Sam, on her first date with Lenin, is uncomfortable with their professional disparities, and has to figure out what to do about it.
Voir la page
Voir en ligne
E
rica is feeling conflicted about her decision to start her own publishing company with her fellow fired River Rocker Julianne, their first planned book being Seth Newman's manuscript about escaping from a cult within which his family still lives. Although the business was Erica's idea, Julianne is equally as excited about the prospect. Ethan, however, wants Erica to be more cautious in whatever her next career pursuit. Dr. Tom gives Erica a test to follow her gut feeling. As Erica is unable to complete this test, Dr. Tom sends Erica back to graduate school, when Erica mistakenly sent a nasty email to her brilliant but difficult thesis adviser, Dr. Audrey Hogan, the department head. Erica vows not to send the email the second time around. Regardless of the email, Erica feels that Dr. Hogan hates her. But Erica comes to understand what she is supposed to learn on this visit back. With this new found knowledge, Erica tries to assist Kai, who thinks that he will soon be sent back to resume his real life. But she also makes a decision to change a fundamental aspect of her own current life, and walks through a door to an unknown future.
Voir la page
Voir en ligne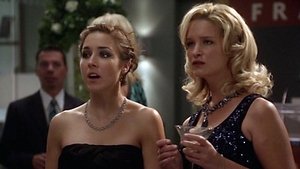 E
rica is emotionally confused. On their three month anniversary, Ryan tells her that he loves her, a place where she is not yet at. And she still seems to have unresolved feelings for Ethan, despite he who is trying to reconcile with his wife, Claire. Ryan can sense something still lingering between Ethan and Erica. To resolve her current conundrum, Dr. Tom sends Erica back to a previous relationship with Cassidy Holland, one that ended just before Y2K. Erica emphatically states that Cassidy is the most amazing woman she has ever met, and a person on whom she had a crush. Although Cassidy was openly gay, Erica states her feelings were not in a romantic way despite she knowing that Cassidy wanted something more between them. This time around, Erica wants to ensure that Cassidy knows that she is straight so that they can deal with the issue head on and thus maintain their friendship. But this revisit to her past makes her truly confront her feelings for Cassidy, and how that may impact not only her friendship with Cassidy but also her current situation with both Ryan and Ethan.
Voir la page
Voir en ligne
E
rica's life is finally going great, both personally and professionally. But the fact that December 13th is approaching is weighing heavily on her mind, that date being the anniversary of Leo's death, which is still her biggest regret in life. Leo died at the age of 21 in a barn fire at her grandmother's farm, the fire that appears to be an accident of Leo's own doing. The farm is now the unofficial grave site where the family visits only once a year to mourn. Erica wants things to change, to make Leo's memory more of a happy thought than a somber one. Her idea is to rebuild the barn as both a cathartic exercise and a standing memorial to Leo. This task ends up being difficult for Barb, who cannot let go of how she grieves for her son. Before sending Erica back to that time to allow her to say goodbye to her brother, Dr. Tom stresses to her that her therapy does not allow her to play God to bring back the dead, and that there are dire consequences if she tries to do so. Once back, Erica finds that knowing her brother is going to die and not doing anything about it is more difficult than she could have ever imagined. Erica learns the hard way that there are extreme consequences in every aspect of her life to her decision to try and save Leo.
Voir la page
Voir en ligne
E
rica's life seems to be back on track. 50/50 Publishing's future seems bright. Brent wants to extend a permanent olive branch to Julianne - and by association Erica - due in part to their now closer working relationship. Julianne is still somewhat suspicious as Brent will not tell her why he originally stabbed her in the back. Back with Erica, she is in a budding relationship with Adam. And all of her family - Barb, Gary and Sam - are also in happy places in their lives. But Erica's life takes an unexpected turn when, after waking up after her first ever lovemaking session with Adam, she finds that she is back in the hospital during the time when she first met Dr. Tom. Populated by familiar faces in different positions, such as Julianne as a nurse, Dave as an orderly and Dr. Tom as Dr. Wexler who is her physician and not her therapist, Erica's new reality is that she has just awaken from a two week coma from her nut-allergy induced anaphylactic shock. The implication is that her therapy with Dr. Tom has been a dream. As Erica tries to cope with what she sees as this setback, she receives a visitor from her past who tries to make her understand what's going on. Regardless of if what she is experiencing is indeed her reality, Erica has to come to the understanding that she still has the lessons learned from therapy - imagined or real - to start the process of bettering her life all over again.
Voir la page
Voir en ligne
Erica Strange, une jeune trentenaire, est persuadée que sa vie est un désastre à cause des mauvaises décisions qu'elle a prises. Elle fait alors la connaissance d'un certain Dr. Tom, un mystérieux thérapeute, qui va lui donner la possibilité de revivre les moments qu'elle regrette le plus.
Articles similaires