Liste des 10 épisodes les mieux notés de la série That '70s Show parmis les 200 répertoriés sur notre site, ordre basé sur la moyenne des notes IMDB et TMDB
J
ackie tells about her pregnancy to Eric, who tells Donna, who gives the foolish girl heaps for having unsafe sex; Kelso faints overhearing them, but intends to do his duty as father. The Formans suspect correctly Laura is home because she failed at Fort Lauderdale college, hoping to fake her F's in an official letter. When Donna asks advice for her friend, Midge fears her daughter was as dumb as she at sixteen. Bob is shocked Donna ordered the pill at the pharmacy; Eric just runs out but has to face the home-front. Jackie has good and nasty news, Red handles horny heat his way...
Voir la page
Voir en ligne
E
ric celebrates his 18th birthday but is depressed Donna is leaving to college the next day; the boys agree long-distance relationships don't last, console him with beer and leave him in a dress, another embarrassment made for Red to milk. Even Kitty planned no birthday treat, and the reason is disgusting to him: parental love life being revived. Donna got him a stereo, but they have a row just before she leaves, now he feels guilty too. Jackie is already redecorating Donna's room even before she leaves. Then it's time to part...
Voir la page
Voir en ligne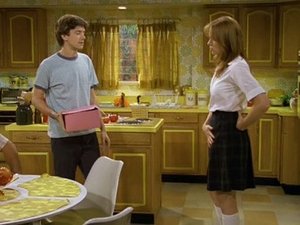 A
s punishment for their running away to California, Eric loses his car keys and Donna is henceforth sent to a strict Catholic girls school, Our Lady Of Perpetual Sorrow, the only good part of which is the sexy uniform; Eric's offer of a crumb cake fails to change dad Bob's mind. Donna guesses Jackie has another when she dumps her collection of gifts from Michael Kelso, then walks in with Eric on Hyde and Jackie kissing on the couch; both lie about how it started but the basement feels 'soiled'.
Voir la page
Voir en ligne
E
ric sleeps till noon and then concentrates on his bowl movements, till Kitty reports Donna has phoned. In California Donna bitchily tries to ruin Michael Kelso's sweetly picking up dumb blonde Malibu surfers girl Annette by nagging about Jackie. Eric's parents forbade him to go, but Hyde bought a ticket from his secretly stashed-away money and promises to cover for him, but actually hooks up with Jackie, who rats on him. Once reunited, the love-birds, wanting to go straight back home, commandeer poor Kelso and his van, but Annette wouldn't put out anyway.
Voir la page
Voir en ligne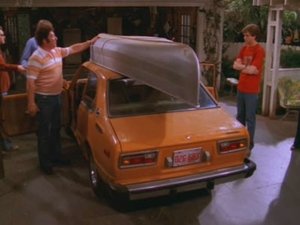 R
ed joined Bob at an auction, got drunk and returned with a canoe, spending the money Kitty destined for Eric's wedding present, so she orders him to think of a free, 'better' gift. The canoe is enthusiastically adopted -Kitty won't keep it- by the basement boys, as an original prop for a crazy stunt, even by Kelso's brave standards, and somehow Michael thinks wearing a helmet would be worse. Eric manages to cause drama by ruining Donna's wedding dress in stages, with and without Kitty's help...
Voir la page
Voir en ligne
E
ric and next Donna demand Hyde and Jackie either break up or tell Kelso. Kitty proudly announces to be pregnant, happy even with morning sickness, and goes extremely clucky; Red is clearly horrified and can't understand that or how she is, but after even Eric vigorously chooses her side and tells dad to be a man, Red ends up accepting his Corvette will have to be sold. Eric made Hyde take Kelso to the vehicle license registration 'to catch up about the summer', where Fez admires the equally crappy treatment of all races, but Hyde can't bring himself to spill the beans, so Michael still ends up finding out accidentally.
Voir la page
Voir en ligne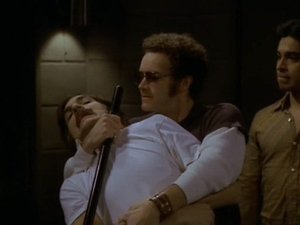 W
hen Eric is caught by Donna tending to his 'manly needs' in the Pinciotti bathroom, everyone acts as if it was an ax-murder: Jackie sees it as blackmail material to 'milk' for life, the others brand the boy as a weak pervert. Hyde and Fez regret having to miss how Eric will as always make this one 'even worse', but still go visit Kelso at the police academy, where the cadet has adopted the burly house style, grown the trade-mark mustache and adopted the cop name Mike. After he dutifully flushed weed criminal Hyde's contraband stash, the pair treacherously shaves him a Hitler-mustache...
Voir la page
Voir en ligne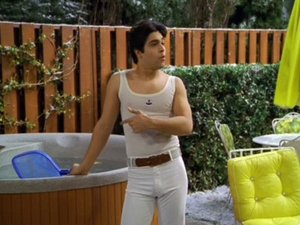 W
hen Kitty gives a cocktail-party, the men all dress up because of Jackie's sexy ma Pamela 'Pam' Burkhart, envy Bob who got another good looker after Mitch and agree it must be a matter of money more then charm, while their daughters agree that mismatch may not go trough but are ignored. The doctor gives Red a heart monitor, but Kitty uses it as a lie-detector to trap him till it is proven to react to... Simple hedonist Kelso is the only one who uses Bob's hot-tub after the odd couple, au naturel, so his scumbag 'mates'...
Voir la page
Voir en ligne
T
hanksgiving Day 1978, Eric hides the fact that he's failing math from Red. Red thinks Eric's changed and matured so he gives Eric sister Laurie's usually reserved seat at the table. This compliment makes Eric feel it's a perfect time to reveal his engagement to Donna to all. Kelso makes this difficult by showing up for dinner, on a date, with Ms. McGee, Eric's math teacher, who is a decade older then Michael. Kitty's parents, arriving from Phoenix, only add to the chaos.
Voir la page
Voir en ligne
I
t is New Year's Eve and is the last day of the '70s. Kitty is having second thoughts about selling the house and moving to Florida, even though Red thinks she is happy they are moving. Donna has just broken up with Randy and is moving to college. Jackie realizes she loves Fez. Bob decides that he's moving to Florida and open a bait shop. Eric is coming home from Africa, and Kelso, who is now living in Chicago with Brook and his daughter, meets Hyde and Fez on top of the Water Tower.
Voir la page
Voir en ligne
Point Place, petite ville imaginaire du Wisconsin. À la fin des années 1970, Donna Pinciotti est la voisine et petite amie d'Eric Forman ; Michael Kelso, le beau gosse un peu crétin ; Steven Hyde, le fan de rock révolté ; Jackie Burkhart, la minette et Fez, l'étranger d'origine indéfinie, squattent le sous-sol de la maison des Forman, sous l'œil bienveillant de la mère, Kitty, une infirmière "légèrement" alcoolique, et celui agacé du père, Red Forman, vétéran de la guerre de Corée. Ce dernier fait souvent preuve d'un manque de reconnaissance à l'égard de son fils traduisant plutôt une difficulté à montrer ses sentiments. Il y a également Leo, un Hippie, un amateur de marijuana totalement déluré, ou encore Midge et Bob Pinciotti, les parents de Donna et voisins des Forman.
Articles similaires