Liste des 10 épisodes les mieux notés de la série Ugly Betty parmis les 84 répertoriés sur notre site, ordre basé sur la moyenne des notes IMDB et TMDB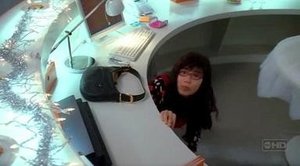 I
t's Christmas at Mode as Betty questions her relationship with Walter and her feelings for Henry the accountant. Daniel, on the other hand, is sure of his love for Sofia.
Voir la page
Voir en ligne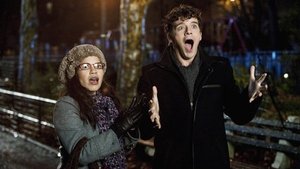 B
etty tries to be neighborly by planning a karaoke party in her apartment building, but before the big day, her building is robbed, and it's partly her fault. Marc is distraught since he lost something irreplaceable in the theft. Meanwhile, Daniel and Wilhelmina are back to being at each other's throats, so Amanda tricks them into attending couples counseling with Dr. Sparks, and Ignacio refuses to accept Bobby in Hilda's life. Then a citywide blackout ups the ante for everyone.
Voir la page
Voir en ligne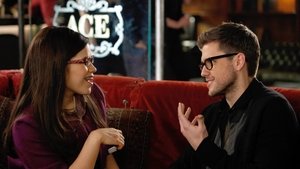 J
ustin loves his acting class, helmed by the eccentric Lena Korvinka, and finds himself in an unexpected triangle with his new pals, Austin and Lily. When Betty drops by class, she's smitten with a cool young playwright, Zachary, whom she will profile for Mode. But she challenges her own ethics when she starts dating him. And Wilhemina is hospitalized with a perforated ulcer, and can't help her type-A personality even when bedridden, but then her roommate, Roberta, prompts an epiphany.
Voir la page
Voir en ligne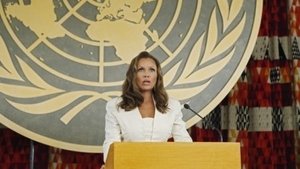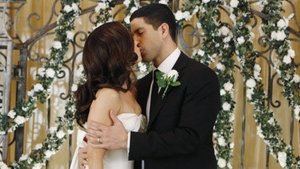 A
s Hilda's wedding day approaches, Betty asks Daniel to be her plus-one, Ignacio invites Elena, and Amanda is set on fixing up Marc with her new client, soap opera star Spencer Cannon. Meanwhile, Justin weighs whether his own plus-one could be Austin, Betty considers unexpected offers in her personal and professional life, and Wilhelmina finds a way to fight the Meade empire by using Tyler as her pawn.
Voir la page
Voir en ligne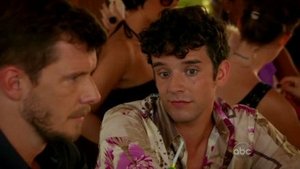 I
n the steamy Bahamas, the love triangle between Betty, Matt and Amanda explodes, and romantic pairings abound. Things should be dreamy at the Atlantis resort, where even Shakira is staying, but Betty has a nightmarish photo shoot after Willie learns her nemesis, Penelope Graybridge, snagged a coveted job, and, even more importantly, discovers Connor is very much alive. Marc frets that there is no one on the island for him, but then meets the uber-hot Troy, and back home, Hilda draws closer to her old love, Bobby,
Voir la page
Voir en ligne
A
gainst the backdrop of Ignacio's multi-culti holiday dinner that he prepares for his new flame Jean, who is Jewish, Betty and Hilda have pregnancy scares. Worse, they purchase their Be-Shure instant pregnancy tests from the local pharmacy -- where Jean works and Ignacio is shopping. Meanwhile, Hartley installs Willie's replacement, a clueless Hollywood mogul, Denise Ludwig, whose claim to fame is a tacky movie, but Marc has a plan to get Willie back -- if only Daniel will agree. And Claire gets Amanda's help and tracks down Tyler, the son she long ago gave up for adoption.
Voir la page
Voir en ligne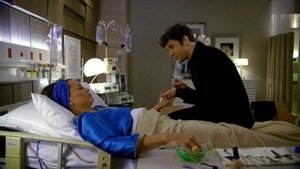 I
t's the end of an era, but the beginning, Betty hopes, of something wonderful. In the series finale, which also features appearances by familiar faces from the past, Betty finds it hard to tell Daniel important news about her future. When she does, his reaction surprises her, but not Claire. Justin and Bobby enthusiastically consider taking advantage of a softening real estate market by apartment-hunting in Manhattan, but Hilda's resisting even the most amazing places. Amanda grapples with the death of her dog, Halston, and Marc wonders if he'll ever have a successful relationship.
Voir la page
Voir en ligne
T
he season-end cliffhanger: Justin is thrilled with the boy playing Tony in the school play falls mysteriously ill and he is promoted from understudy. Santos finds trouble when he stops at a store to buy Justin a good-luck present. Alexis finds an unpleasant surprise when she takes their father's car to rush Daniel to the hospital for an overdose.
Voir la page
Voir en ligne
Betty Suarez n'est pas spécialement belle, mais elle est douce, intelligente et travaille dur. Dans un monde régi par les apparences, ses qualités sont invisibles. Pourtant, le Président de Meade Publications l'engage pour devenir l'assistante de son fils, Daniel, récemment promu à la tête d'un prestigieux magazine de mode. Il espère ainsi obliger son futur successeur à s'intéresser davantage à son travail plutôt qu'à la gent féminine. Si au début leur association est explosive, ils vont bientôt devenir une paire redoutable...
Articles similaires