Liste des 10 épisodes les mieux notés de la série The King of Queens parmis les 50 répertoriés sur notre site, ordre basé sur la moyenne des notes IMDB et TMDB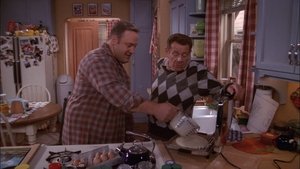 D
oug tells Carrie he doesn't agree with the way she treats Arthur and because of that Carrie lets Doug take care of Arthur.
Voir la page
Voir en ligne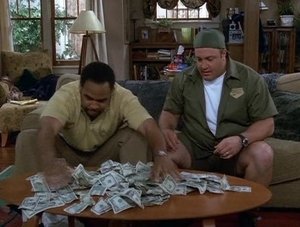 D
oug and Deacon bet 100 dollars on a fight that they are not allowed to bet on. They win 5,000 dollars, and have to get rid of it quick or Carrie will know Doug disobeyed her orders not to take the money. Doug and Deacon decide to take off from work for a whole day and spend all the money. The money is spent on fancy dining, expensive cars, and a live living room performance by the 'money man' Eddie Money.
Voir la page
Voir en ligne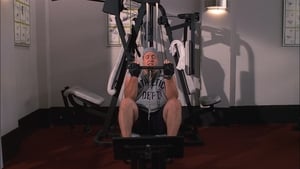 W
hen Doug learns that Carrie is buying him clothing from the "Big and Tall Shop", he is now determined to lose weight. While he is on his journey to lose weight, he tells Carrie that she needs to make some changes to her lifestyle as well. Meanwhile, Arthur is trying to keep the family safe by getting a safety dummy.
Voir la page
Voir en ligne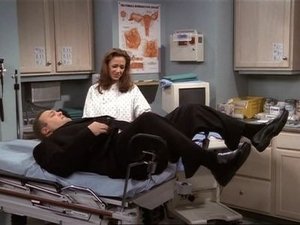 A
second job being a limousine driver, Arthur asking him to make a lavatory in the basement, supporting Carrie and realizing he'll be a father in a few months all becomes too much for Doug.
Voir la page
Voir en ligne
D
oug is going to throw a paint ball party for Deacon. However, Doug becomes angry at Carrie because she finds Deacon attractive. Kelly is angry at Carrie because of what she said about Deacon. It all leads up to a climactic battle between friends.
Voir la page
Voir en ligne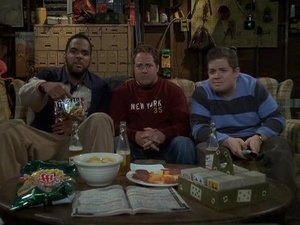 W
hen Arthur comes home from his operation, Doug and Carrie decide to install a nanny-cam to watch over him. While getting a life insurance plan, Carrie decides that if she unexpectedly died, Arthur would continue to live with Doug. Doug really doesn't like the idea. In the end, Doug, Carrie, and Arthur find that being together is more important then finding out who gets stuck with who.
Voir la page
Voir en ligne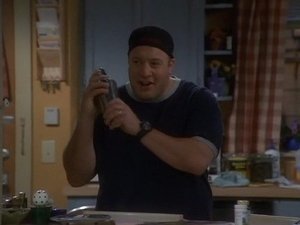 C
arrie starts joining a colleague for after-work cocktails and Doug realises she's less abrasive when she returns home. When Carrie has a row with her co-worker, Doug and Arthur conspire to keep her a little tipsy - until neighbour Lou spills the beans and she's even angrier than ever.
Voir la page
Voir en ligne
T
he fourth season concludes with Arthur visiting a psychiatrist and recalling via flashback a disturbing encounter with his dad that may explain Arthur's abrasive personality. Carrie and Doug decide to "validate" Arthur in everything he does. This leads to Carrie visiting the psychiatrist, who also has a flashback that makes her doubt her personality. Which leads Doug to also visit the psychiatrist and has his own flashback that makes him learn something about himself.
Voir la page
Voir en ligne
I
t is week three of the IPS strike, and Doug has just been hanging around the house for all three of them. Deacon has also been out of work and Kelly has had enough of his laziness. Carrie and Kelly decide to have Arthur, Doug, and Deacon spend the whole day together. However, their plan backfires, because the three of them become uncontrollable delinquents. In the end, the strike is ended.
Voir la page
Voir en ligne
Taking place in Rego Park, Queens, New York, a blue-collar married couple, Doug, a deliveryman, and Carrie, a secretary at a law firm, who both live with Carrie's oddball father, Arthur, try to make the best of what they got while trying to make their marriage somewhat normal and getting through tiny problems that they have together, even the occasional run-in with Carrie's father.
Articles similaires