Liste des 10 épisodes les mieux notés de la série Californication parmis les 83 répertoriés sur notre site, ordre basé sur la moyenne des notes IMDB et TMDB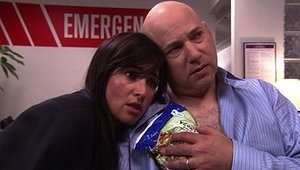 M
uch to his joy, Charlie's wife Marcy tells him she wants to do a threesome. She asks Dani to join in. Charlie has arranged that Hank and Todd Carr meet because Carr wants to option Hank's blog. When Carr is talking about his house, Hank arranges a surprise Karen must love, being an architect. Becca tells Hank she doesn't believe in happy ends anymore. Meanwhile, Charlie, Marcy and Dani's threesome doesn't end up the way they thought it would.
Voir la page
N
ow that Charlie is single, he wants casual sex and lots of it. He asks Hank to go to a gym with him so he can get in perfect shape for the ladies and Hank reluctantly agrees. At the gym they meet an old fling of Hank who's still angry with him because he didn't call her back about a year ago. Nevertheless, the three of them end up at Hank's place where Hank just wants to go to sleep, but, because the girl won't have sex with Charlie unless Hank participates, they start a threesome. Meanwhile, Karen and Marcy go out together, get drunk and Marcy tells Karen Hank bought her a ring.
Voir la page
K
aren asks Hank to intervene with Becca. Charlie faces a serious case of aerophobia. Atticus is surprised by Faith, while his wife surprises Hank.
Voir la page
I
t's the day of Karen and Bill's wedding and everybody wonders how Hank will behave. While he's trying on his tie, Becca announces she just had her first period and, of course, Hank isn't prepared for this so they speed to the super market to see a woman take the last pack of tampons.
Voir la page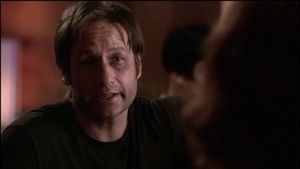 W
hen Hank's father dies, he refuses to attend the funeral. He never forgave his dad for being as unfaithful as himself, while his ma was an old-fashioned Catholic. Like Hank, he spent his days seeking sex, never mind family, like visiting an old 'bed friend' rather then spending time with Becca. Hank takes out his frustrations on the film crew and Trixie, the call-girl he was trying to build a relationship with him.
Voir la page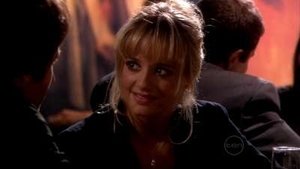 H
ank caves in and accepts the blogger gig for Hell-A Magazine. Meanwhile Becca helps Hank get invited to a dinner party at Karen and Bill's. All the while Hank attempts to heal the rift between his family despite romps with a scientologist, a porn star, and the continuing situation with Bill's daughter Mia.
Voir la page
H
ank finds himself stuck with the unpleasant task of reading Tyler's screenplay. Unfortunately for Hank, Tyler's hiding some talent under that head of hair. Even more unfortunate is the fact that the screenplay references Becca. Charlie and Lizzie's quadrilateral with Stu and Marcy heats up, but when MarStu's bedroom games hit too close to home for Charlie, it may be off to therapy for the four of them.
Voir la page
A
s the Moodys at last prepare to move to New York, Becca tells Hank about an intimate coming of age experience she had. Hank's stunned when Mia shows up at the house unannounced, in town with her slimy boyfriend / manager PAUL for a book signing. Hank fails to prevent Mia and Paul from hatching a devious publicity stunt, forcing Hank to finally share the long-buried heartbreaking secret with Karen. Sue Collini gives Charlie a career opportunity of a lifetime, but Charlie must confront the fact that he might be losing Marcy for good.
Voir la page
J
ackie and two of her friends arrive to party. The next day, one of the girls is unconscious, and then Runkle & Rick Springfield arrive. They all have to hide when Jill suddenly arrives. And the knocks on the door just don't stop.
Voir la page
M
ia's - that is, originally Hank's - book gets rave reviews, ironically better than any of the books published in Hank's name. Lew is having a party to which pretty much everyone is invited. Marce has just come back from rehab and Charlie is planning to give her some time before announcing that he wants a divorce in order to be with Daisy. Annika, a Rolling Stone book critic has a scandalous theory about the true story behind Mia's book... And there's still more problems arising.
Voir la page
Hank Moody est romancier et séparé de la mère de sa fille de 13 ans. Il est aussi accro aux femmes et aux drogues et ne peut s'empêcher de dire la vérité, tout le temps et à tout le monde. Oui, Hank est auto-destructeur...
Articles similaires