Liste des 10 épisodes les mieux notés de la série Happy Endings parmis les 57 répertoriés sur notre site, ordre basé sur la moyenne des notes IMDB et TMDB
I
n order to get good basketball tickets, Max (Adam Pally) avoids telling a woman who's interested in him that he's gay. Alex's (Elisha Cuthbert) efforts to be smarter pose a threat to Dave (Zachary Knighton) and Jane (Eliza Coupe). Guest starring Abby Elliott.
Voir la page
W
ith the future of his new job in jeopardy, Brad enlists his friends to help save the failing kids' gym. Max's concerns over his endless texting lead him and Penny into addiction to a powerful - and illegal - cough syrup.
Voir la page
O
nce Dave gets a liquor license for the "Steak Me Home Tonight" truck, it suddenly becomes the next big trendy place in Chicago. He thinks his friends are avoiding him because they're jealous of his newfound fame, but there's another reason: His signature drink is giving almost everyone sex dreams - about Dave -- Everyone except Alex, who is on an alcohol-free fast.
Voir la page
J
ane and Brad spend a scary Halloween house sitting for friends in the suburbs, while the rest of the gang heads to a warehouse party, where their respective costumes don't quite have the effect they anticipated, especially for Alex and Dave.
Voir la page
A
ngie, Max's high school girlfriend whom he dated before he figured out he was gay, moves back to town, and her arrival affects everyone: Penny is jealous of her (and then goes overboard befriending her); Alex develops her odd crush on Max; but the strangest reaction of all is from Max, who declares a "code war" when Dave and Angie date. Meanwhile, when Jane finds out Brad has a "work wife," she decides to get herself a "work husband" and sets her sights on the slightly unhinged head of Human Resources.
Voir la page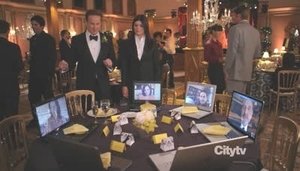 T
he gang find themselves at yet another wedding, this time the nuptials of Derrick and Eric . Will there be "DRAMA", to quote Derrick? Of course, as Brad struggles to tell Jane something important; Jane tries to find a way to help Eric hide the fact that the pricey reception must be down-scaled; and Max tries to find the courage to perform with his old all-male Madonna cover band. Meanwhile, a dateless Penny is sad that she's at another wedding alone, until she meets a cute guy via Skype.
Voir la page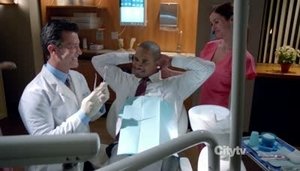 F
or Valentine's Day, Brad tries to surprise Jane, who doesn't respond well to surprises. Penny begins the process of breaking up with her boyfriend, 'respecting the break-up window'. Max solicits his friends for Valentine's Day limo packages. Dave misinterprets his girlfriend's intentions. Alex tries to find love at a party. Brad gets his first cavity.
Voir la page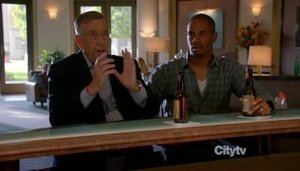 T
he squad has time to kill when the arrival of the Serbian President's motorcade to Brooklyn has been delayed. So, Jake launches "The Jimmy Jab Games," an annual series of competitions in the precinct. Meanwhile, Terry and Holt take on a new drug task force approved by Holt's nemesis, Deputy Chief Madeline Wuntch.
Voir la page
I
n order to avoid having tea with an annoying childhood friend, Penny (Casey Wilson) makes up a series of detailed lies that quickly spin out of control. Meanwhile, Dave (Zachary Knighton) and Max (Adam Pally) struggle to convince their nosy landlord to fix their oven.
Voir la page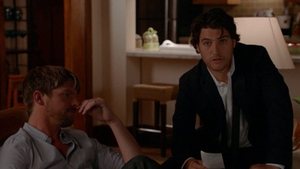 M
ax's (Adam Pally) vow to play a series of vengeful pranks on his friends threatens to derail a big surprise planned by Penny's (Casey Wilson) boyfriend, Pete (guest star Nick Zano). Meanwhile, Jane (Eliza Coupe) worries when Brad (Damon Wayans, Jr.) takes a new job at a kids' gym.
Voir la page
This Chicago-set sitcom follows the intertwined lives of six young urbanites trying to learn the ropes of adulthood. Through breakups and whatever other curve-balls life throws them, the pals stick together.
Articles similaires