Liste des 10 épisodes les mieux notés de la série Sex and the City parmis les 94 répertoriés sur notre site, ordre basé sur la moyenne des notes IMDB et TMDB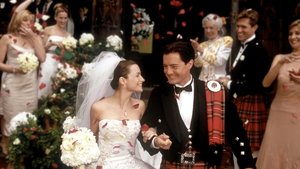 W
hen Miranda tries multi-dating, she quickly finds nobody wants a lawyer, while her same physique appeals as 'stewardess'- but then her date the doctor... At Charlotte's rehearsal dinner, Samantha hooks up with Trey's cousin Caleb, even if she can't understand his Edinburgh accent. Carrie is touched that Aidan created a love-seat as a wedding gift for her friend Charlotte; finally she gathers the courage to confess her infidelity with adulterer Big... Sleeping with Trey for the first time, Charlotte has a sleepless night before her wedding discovering he's barely interested in sex and semi-impotent...
Voir la page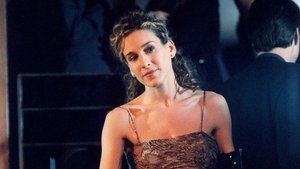 W
hile shoe-shopping, Carrie meets Amalita and her new rich boyfriend. Amalita's life is full of vacations, holidays, and shopping with very rich men. Over dinner, she introduces a young, handsome architect to Carrie. Her evening ends at his luxurious hotel. Waking up, she finds that the man has left her a considerable sum. Appalled, she calls up her friends and they discuss the power of sex. Meanwhile, Charlotte is asked to model for an artist who is doing a series of paintings of vagina.
Voir la page
C
arrie drags Berger along shopping, as with Prada, and brags with a check from her publisher for success in Europe, but learns then her publisher dumped both her supervisor Courtney and Berger; when he takes her on a rather wild bike ride, she freaks out. Miranda still wrestles with her feelings for Steve; Charlotte feels a basket-case after Harry dumped her. When Samantha learns Jerry has dropped his waiter job to do a terribly bad paying play outside Manhattan he can only lure her to by promising hot sex afterward, she decides to help him by doing its PR, based on the fact he drops trou full-frontal in it, and aces its premiere.
Voir la page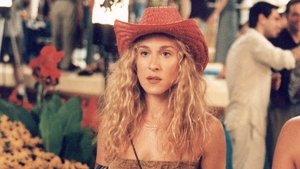 T
he girls wrestle with the possible threat of twenties-girls when they are invited to a beach party in the Hamptons. Charlotte suffers a nasty punishment for passively lying about her age: her even younger toy-boy Greg gives her crabs. Sam finds her former assistant Nina, which she once sacked, now got to host a party with people even she couldn't get- but can't control the party-guests. Carrie has a sheepish young writing admirer Laurel, and came with doctor Bradley Meego, but even her fun is over when she finds Mr. Big there, back from Paris, and dating girl of about 26, Natasha.
Voir la page
3
4-year old Miranda feels a teenage girl again when her dentist gives her braces. Samantha is jealous of a 13-year old, super-rich client, who seems to have skipped the teen years altogether. Carrie's gorgeous younger boyfriend Wade "Superboy" Adams is a comics-shop-clerk who makes her feel young again, as they do teen- and tween-things together, or perhaps too young: he still lives with his devoted parents... Meanwhile Charlotte resorts to heavy medical therapy for Trey's sexual non-performance, and gets surprising results.
Voir la page
W
hile Carrie and Stanford hang out at the bar of Brasserie 8 1/2 in midtown Manhattan, they run into Lynn Cameron, an old friend, who is producing a NY fashion show featuring real models and famous New Yorkers as models. She insists Carrie model in the show for her. Meanwhile, Miranda can't believe it when hunky guy at her gym asks her out on a date, telling her he thinks she's sexy. Samantha is trying to get ready to pose for nude photos, sticking to a healthy, organic diet. She says she wants to remember her body as it is before everything goes south. Charlotte has to make a trip to her gynecologist because, as it turns out, her vagina is "depressed." Her doctor gives her anti-depressants and tells her to keep a vagina journal. Later, she sets up Stanford with her old wedding stylist, Anthony Marantino, for Carrie's big day as a model. When he had asked her about Stanford on the phone, Charlotte described him as a young Ed Harris. When Anthony sees Stanford at the fashion show, he is not happy, and he takes off. Carrie is backstage at the fashion show, thinking she's going to wear a beautiful blue sequined dress by Dolce & Gabbana. Backstage, the designer (played by Alan Cumming) says there has been a change of plans. She's now wearing a pair of jeweled panties. Carrie freaks out. He says not to worry, there's also a great blue jacket with it. Carrie's not sure she can go on stage like this. She asks Samantha to comeback stage to tell her honestly how she looks. She tells her she's a model and she looks fabulous. Carrie goes on stage and promptly falls in her stiletto heels. Heidi Klum follows her down in the runway, and Stanford exclaims, "Oh my God! She's fashion roadkill!". Carrie can't do much else besides get up and laugh it off and flash her best smile. Her courage to get back up inspires her friends to face their fears as well.
Voir la page
C
harlotte feels ready to date properly again, and has a lovely evening with divorced Eric, till he sees her (well, Trey's) apartment 'of the rich' and instantly considers them incompatible. Samantha sees Richard at lunch time with another woman, apologizes when he's coolly insulted by her insinuations, but still follows him, breaks in a hotel room and actually catches them for what he can just call 'only sex'. As Mr. Big is leaving New York indefinitely for a job in Napa, the Californian wine country, Carrie plans a glorious last day, gets ideal new shoes and has a romantic coach ride in Central Park- only to have it cut short by the news pregnant Miranda needs to go to hospital, where her water breaks right on Carries shoes. After the excitement about baby Brady, it's a big dip again as Big has already left, leaving her only a Mancini record and plain tickets in his empty apartment.
Voir la page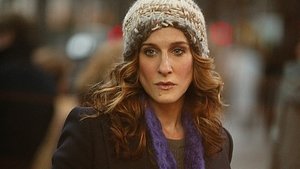 J
ust when Carrie is almost ready to leave for Paris for good, Mr. Big calls and turns up in his limousine- yet she walks out for her last dinner with the girls, where Charlotte cries and Miranda makes up. Samantha has her personal input, from nature and experience, concerning a cancer benefit. Once in Paris, Carrie loves the city but less sharing Petrovsky's love with his bratty daughter Chloe and his time with an artists obligations. After a disastrous day shopping, her confidence is down like her credit-card credit and she looses her Carrie necklace- another reason to call Miranda, homesick for New York and thinking about Big, who turns to the girls there.
Voir la page
T
hree of the girls deal with loved ones from their past. For Carrie it's trying to become just good friends again with Mr. Big, who now is with Natasha and even tells her they are already engaged. For Charlotte it means the pony Taddy which threw her off as a child, or a substitute horse. For Miranda it's becoming friends again with barman Steve, but then they get physical again... Samantha however finds by chance a new, huge hunky man who seems about as cocky as she is, and proves he has a cock of matching (record) size which even she may not be able to handle.
Voir la page
C
arrie has lunch with Petrovsky's ex Juliette B. who tells her he always gives priority to his art above his partner- she finds that true and has a generally bad time. Charlotte prepares with Anthony to receive her promised adoption baby's birth parents, but those changed their mind; ultimately she and Harry get another baby girl from China. Steve's ma Mary suffers memory loss after a mild stroke, and Miranda offers to take her in, which their maid Magda calls love. Samantha finally admits that Smith means enough to her, unlike any other man, to be jealous. Mr. Big has finally realized that he cannot be happy without Carrie and sets out to bring her back to New York, just when she was considering breaking up with the Russian anyhow.
Voir la page
Célibataire new-yorkaise, Carrie s'inspire de sa propre expérience, et de celle de ses amies, pour écrire des articles sur des thèmes touchant le sexe et les relations amoureuses.
Articles similaires