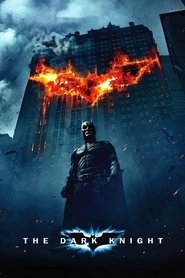 Résumé
Dans ce nouveau volet, Batman augmente les mises dans sa guerre contre le crime. Avec l'appui du lieutenant de police Jim Gordon et du procureur de Gotham, Harvey Dent, Batman vise à éradiquer le crime organisé qui pullule dans la ville. Leur association est très efficace mais elle sera bientôt bouleversée par le chaos déclenché par un criminel extraordinaire que les citoyens de Gotham connaissent sous le nom de Joker.
Résumé de themoviedb.org
Détails
Christian Bale
Bruce Wayne
Heath Ledger
Joker
Aaron Eckhart
Harvey Dent
Michael Caine
Alfred
Maggie Gyllenhaal
Rachel Dawes
Gary Oldman
Lt. James Gordon
Morgan Freeman
Lucius Fox
Ron Dean
Wuertz
Cillian Murphy
Scarecrow
Chin Han
Lau
Nestor Carbonell
Mayor of Gotham
Eric Roberts
Salvatore Maroni
Ritchie Coster
Chechen
Anthony Michael Hall
Engel
Keith Szarabajka
Stephen
Colin McFarlane
Loeb
Melinda McGraw
Barbara Gordon
William Fichtner
The bank manager

David Dastmalchian
Joker's henchman
William Smillie
Happy
Danny Goldring
Grumpy
Michael Stoyanov
Dopey
Beatrice Rosen
Natascha
Matthew Leitch
Prisoner on Ferry
Amit Shah
Party Guest (uncredited)
Michael Jai White
Gambol
Monique Gabriela Curnen
Ramirez
Joshua Harto
Reese
Nathan Gamble
James Gordon, Jr.
Michael Vieau
Rossi
Olumiji Olawumi
Drug Dealer
Vincenzo Nicoli
Crime Boss

Edison Chen
LSI VP
Will Zahrn
Assistant DA
Patrick Leahy
Gentleman at Party
Patrick Clear
Judge Freel
Sarah Jayne Dunn
Maroni's Mistress
Charles Venn
Gambol's Bodyguard

Winston G. Ellis
Gambol's Bodyguard
Keith Kupferer
Heckler
Richard Dillane
Acting Commissioner
Philip Bulcock
Murphy
Paul Birchard
Cop with Fat Thug
Vincent Riotta
Cop at 250 52nd St.
K. Todd Freeman
Polk
Matt Shallenberger
Berg
Matt Rippy
First Mate
Andrew Bicknell
Prison Ferry Pilot
Ariyon Bakare
Guard Commander
Doug Ballard
Businessman
Tommy Campbell
Passenger
Craig Heaney
Passenger
Lorna Gayle
Passenger
Lisa McAllister
Passenger
Peter Brooke
Passenger

Tommy Lister
Tattooed Prisoner
Thomas Gaitsch
Reporter #3
William Armstrong
Evans
Tristan Tait
Uniform Cop
Bronson Webb
Bounty Hunter
David Ajala
Bounty Hunter
Jonathan Ryland
Passenger Ferry Pilot
Ian Pirie
Corrections Officer
Lateef Lovejoy
Prisoner
Grahame Edwards
Prisoner
Roger Monk
Prisoner
Ronan Summers
Prisoner
Jon Lee Brody
Waiter (uncredited)
Debbi Burns
Bank Patron (uncredited)
Maritza Cabrera
Party Guest (uncredited)
Shirin Caiola
Party Guest with Glass (uncredited)
Laura Chernicky
Party Guest (uncredited)
Erik A. Williams
Party Guest (uncredited)
Kelli Clevenger
Paramedic (uncredited)
Richard Divizio
Chechen Gangster (uncredited)
Tony Domino
Press Conference Heckler (uncredited)
David Fultz
Pedestrian (uncredited)
Natalie Hallam
Ferry Passenger (uncredited)
Jordon Hodges
Police Officer (uncredited)
Erron Jay
Prisoner (uncredited)
Peter Rnic
Prisoner (uncredited)
Daniel Jefferson
Immigrant Ferry Passenger (uncredited)
Nicky Katt
Shotgun SWAT (uncredited)
Thomas Kosik
Parade Police Officer (uncredited)
Tom Townsend
Police Officer (uncredited)
Don Kress
Maroni's Henchman (uncredited)
Tim Krueger
Assistant D.A. (uncredited)
Dan Latham
Police Sgt. Spellman / Gotham Bomb Squad (uncredited)
James Mellor
Ferry Passenger (uncredited)
Joseph Oliveira
Officer (uncredited)
Buster Reeves
Joker's Thug #2 (uncredited)
Michelle Shields
Angry Hospital Relative (uncredited)
Sofiya Smirnova
Evacuee (uncredited)
Bruce Spielbauer
High-Ranking Police Official (uncredited)
Robert Patrick Stern
Extra (uncredited)
Robert Stone
Dept. of Corrections Resident (uncredited)
Richard Strobel
Detective (uncredited)
John Turk
Chechen's Bodyguard (uncredited)
John Warman
Detective (uncredited)
Chris Wilson
Major Crime Unit Detective (uncredited)
Kevin Zaideman
Party Staff (uncredited)
Henry Milton Chu
Lau Henchman (uncredited)
Tom McComas
Helicopter SWAT Sniper (uncredited)
Christopher Nolan
Director
Jonathan Nolan
Screenplay
Hans Zimmer
Original Music Composer
Wally Pfister
Director of Photography
James Newton Howard
Original Music Composer
Christopher Nolan
Producer
Charles Roven
Producer
Emma Thomas
Producer
Christopher Nolan
Screenplay
Christopher Nolan
Story
David S. Goyer
Story
Thomas Tull
Executive Producer
Michael Uslan
Executive Producer
Kevin De La Noy
Executive Producer
Benjamin Melniker
Executive Producer
Lee Smith
Editor
Nathan Crowley
Production Design
Peter Lando
Set Decoration
John Papsidera
Casting
Lindy Hemming
Costume Design
Mark Bartholomew
Art Direction
James Hambidge
Art Direction
Craig Jackson
Art Direction
Kevin Kavanaugh
Supervising Art Director
Simon Lamont
Supervising Art Director
Steven Lawrence
Art Direction
Naaman Marshall
Art Direction
Janice Alexander
Hairstylist
Deena Adair
Hairstylist
Sue Robb-King
Makeup Artist
John Caglione Jr.
Makeup Artist
Nancy Hancock
Makeup Artist
Jenne Lee
Art Department Coordinator
Nicholas Gall
Casting
Lucinda Syson
Casting
Steve Gehrke
Script Supervisor
Richard M. Daley
Thanks
Kevin Kavanaugh
Supervising Art Director
Simon Lamont
Supervising Art Director
Janice Alexander
Hair Department Head
Brad Dechter
Orchestrator
Alyson Dee Moore
Foley
Dennis Davidson
Publicist
Kimberley Spiteri
Hairstylist
Stephen Vaughan
Still Photographer
Alex Gibson
Music Editor
Daniel Pinder
Music Editor
Richard King
Supervising Sound Editor
Richard King
Sound Designer
Ed Novick
Production Sound Mixer
Lora Hirschberg
Sound Re-Recording Mixer
Gary Rizzo
Sound Re-Recording Mixer
Michael Magill
Dialogue Editor
Hugo Weng
Dialogue Editor
Michael W. Mitchell
Sound Effects Editor
Michael Babcock
Sound Effects Editor
Bob Gorelick
Steadicam Operator
Bob Gorelick
Camera Operator
Tom Struthers
Stunt Coordinator
Paul Jennings
Stunt Coordinator
Rick Le Fevour
Stunt Coordinator
David Orr
Color Timer
Jim Wilkey
Stunts
Mark Mottram
Stunts
Lorne Orleans
Producer
Nilo Otero
Assistant Director
Jeff Atmajian
Orchestrator
Donald Likovich
Assistant Editor
Rick Avery
Stunts
Tom McComas
Stunts
Doug Hemphill
Sound Re-Recording Mixer